We hear one question a lot from budding businesses:
"What can I do to grow brand awareness in my target market?"
Trade shows are an excellent place to put your brand in the spotlight. Every show is teeming with business buyers and direct consumers—the perfect environment to tell qualified leads who you are and what you do.
To be successful, there are some key elements to include. Here's everything you need to build brand awareness at your next trade show:
Get ahead of the game
You know what they say, the early bird gets the brand awareness! Ok, maybe that's not exactly how it goes. Long before the trade show doors open, you can champion your brand with pre-show promotions:
Use your social media accounts to let your audience know you'll be exhibiting, and preview some of the trade show games, giveaways, and other offerings they can find at your booth. To build brand awareness outside your followers, use relevant hashtags and engage with commenters on pages/accounts for the trade show.
Reach new prospects in your industry or target market using well-branded PPC ads and media announcements. Include information like the date and location of the event and some incentives to stop by your booth.
You can use SEO to promote your brand by creating trade show-related blog posts that offer value to your prospects. Provide tips for trade show attendees, guides or maps, and of course a preview of the awesome stuff visitors will find at your booth.
Reach out on a personal level with emails that highlight your trade show participation, the location of your booth, and some solutions you'd like to discuss with the prospect. Try purchasing a targeted email list to build brand awareness outside your contact list.
Make sure you snag a media list from the event coordinator if one is available. Even if your fellow exhibitors are not in your target market, part of building brand awareness is letting other businesses know who you are and what you do.
Use Effective Trade Show Booth Design
Exemplary trade show booth design will be the defining factor in your quest for brand awareness. The following elements will help you make an undeniable impact at your next event:
1. DEVELOP A COHESIVE THEME:
Everything in your booth, from the flooring to the signage to your trade show product displays, should be unmistakably tied to your brand. Even your brochures and branded giveaways need to coordinate with your theme.
How do you know if your theme is strong enough?
Try this test: if all your logos and brand names were removed, would it be easy to guess that the booth belonged to your company? If so, you're on the right track.
2. TELL A STORY:
If you want to get to know a person, you need to learn their story. The same concept applies when it comes to building brand awareness! A booth is a visual, experiential form of storytelling.
Using color, lighting, interactive elements, product displays, and your booth staff, you can help visitors understand where you came from, why you do what you do, and (most importantly) what you can do for them.
3. ENGAGE YOUR VISITORS:
Once you've drawn leads to your booth, how will you engage them in a way that promotes brand awareness?
The first step is to provide knowledgeable, highly trained booth staff. They'll need more than just training on products and services. Your booth staff should contribute to your brand's story by understanding your culture, your brand personality, your mission, and the inner workings of how you meet your clients' needs.
The second element of engagement includes games and interactive activities. Movement and interaction draw people to your exhibit. Your games and activities should promote brand awareness by tying into your theme and story. Brand every component of the games or activities you host, including prizes.
4. NETWORK LIKE A PRO:
At the trade show, take time to participate in workshops and networking events. Walk the floor as an attendee to look for complimentary brands you can partner with for referrals. Take any opportunity to connect organically with other businesses and give your brand some notoriety.
5. GIVEAWAYS:
Branded giveaways are one of the most effective and fun ways to enhance brand familiarity. Whatever you pass out, make sure it coordinates with your theme, contributes to your story, and features your company name and logo.
If you have a product that's easily sampled, like Hubert's Lemonade, your branded giveaways are a no-brainer. Finding a creative way to hand out your product samples can set your exhibit apart: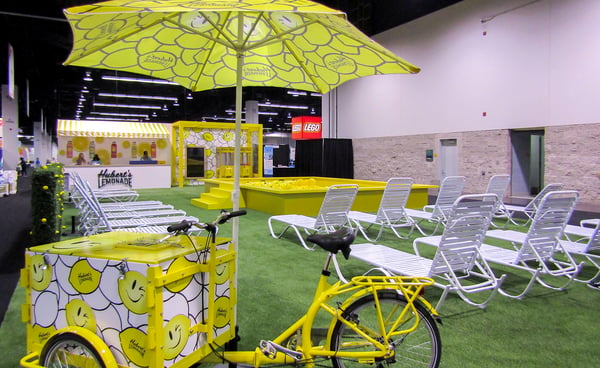 We hope you found these trade show tips to attract visitors and promote brand awareness to be helpful! If you could use some additional assistance on taking your brand from rookie to MVP, don't hesitate to reach out to the booth gurus at Exhibit Options.