Started by the World Pet Association in 1950, SuperZoo is the largest pet industry trade show in North America. This year's show will be held September 1-3 at the Mandalay Bay in Las Vegas, Nevada. Over 1,000 exhibitors are expected, as well as around 10,000 attendees (including 3,200 buying companies). Here's everything you need to prepare for SuperZoo 2020!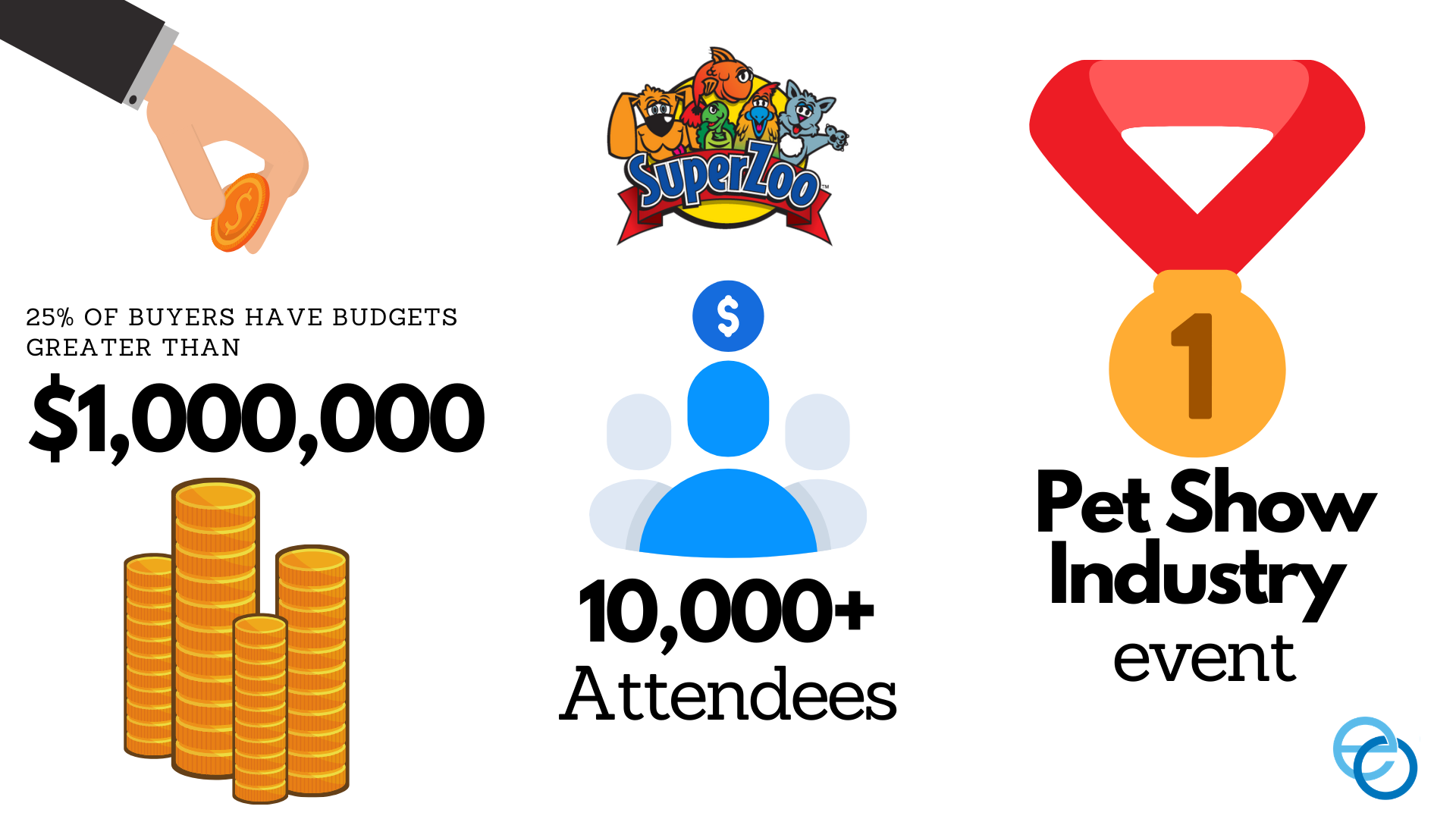 SHOW HIGHLIGHTS
48 percent of attendees have annual purchasing budgets greater than $100,000, while nearly a quarter of registered buyers have budgets over $1 million.

Almost one-third of the 10,000 plus showgoers don't plan to attend another buying event all year.

The New Product Showcase is one of the most popular areas of the SuperZoo show floor. The showcase will feature activities and contests that cover new-to-market products, business opportunities, and more.
TRADE SHOW TIPS
Download the SuperZoo mobile app before the show. Whether you're an attendee or an exhibitor, the mobile app will help you navigate the floor and plan for the event, maximizing your efficiency.

SuperZoo has resources to book your hotel. While the hotel does come with a premium price tag, most attendees will find it to be the most convenient option and a great opportunity to network before and after the doors are closed.

SuperZoo has a comprehensive service kit, complete with everything from deadline checklists to the contractor guide.

If you will need services from Mandalay Bay (food, technical setup, booth cleaning, etc.) find the "help" button on-site, or call 855.408.1349

It is strongly encouraged that you register your team in advance of the event. Your badge will be provided onsite.
BOOTH TIPS
SuperZoo has some fantastic resources on maximizing your booth. Check out trade show tips, free marketing tools, and booth showcases.
Want to outshine the competition at SuperZoo? You'll need to stay ahead of the trends! Here's what's hot this year:
Experiential Booths

Elaborately themed booths provide an immersive experience for attendees that transports them beyond the walls of the trade show hall. Draw crowds at SuperZoo 2020 by creating a world of your own.

Exhibits that Tell a Story

As marketing shifts to embrace a more organic, customer-centric buyer's journey, so have trade show exhibits. Rather than acting as a four-walled billboard, use a thoughtful layout to tell your brand story while guiding attendees through your exhibit.

Cause Marketing

Tap into the power of cause marketing by aligning your booth with a cause relevant to your brand. Animal-related charities and causes are sure to be effective at SuperZoo.

The "Un-Booth"

Create a hangout space, a meditation room, a dance party—anything but a booth! Your "un-booth" is sure to draw attendees with its intriguing appearance and plenty of "buzz."
BOOTH SPECIFICATIONS
One 10×10 booth includes:

ID sign (11×17)

8-foot draped backwall

3-foot side curtains

No drapes on island booths

No canopies or awnings are permitted for inline or peninsula booths

Hanging banners and signs are only allowed on island booths 20×20 and larger.

Carpet or flooring is a must in your booth:

Service and Vendors can be ordered from the Mandalay Bay Service Kit

Electricity

Internet

Telecommunications

Booth cleaning

FnB, and etc.

Drayage:
To have materials received and transported to your booth, exhibitors must pay a fee, charged by weight and the number of packages.
SuperZoo booths include a 300-pound drayage credit.

No wheels allowed: Carry your material through the front or hand-carry door.

Consider cartload service: In many cases, this is the most appropriate, easiest and most affordable way to move smaller shipments.
RESOURCES
With these trade show tips in your back pocket, you're officially prepared for SuperZoo 2020. If you could use a little help with your booth design, logistics, or anything else, please don't hesitate to reach out. We're happy to help!