Trade shows are teeming with attendees looking for the newest, most exciting offerings in their respective industries— these make them the perfect environment to launch your new service or product!
Your product's big debut will require some special trade show considerations. Here's how to maximize your product launch strategy with effective planning and advantageous booth design:


PLAN IT OUT
When is your product or service launching? Is there an industry show occurring in the same time frame? A little due diligence can help you find the perfect trade show for the big debut. Select a show with the following:
Industry-specific focus
Ample lead time to plan, execute promotions, and complete your booth design
A strong presence with your target market
How will you promote your new product or service before and during the show? You'll need to make a splash, and the work begins long before the exhibit hall doors open. Consider the following promotional strategies to build some hype around your upcoming booth:
Social media posts:

Let your audience know you'll be at the show launching a new product, and engage with those who plan to attend

Trade show-specific landing page:

Collect lead information, provide show details, and offer incentives to visit your booth

Press releases: Send your "who, what, where, when, and why" to industry media sources well in advance of the show
Webinar announcements: Add show participation information and new product teasers to upcoming webinars
Pay-Per-Click Ads: Consider a highly targeted campaign to send traffic to your landing page and generate new leads

Emails:

Let your contact list know you'll be bringing a new product or service to the show and provide promotions/incentives to stop by your exhibit

Mailings: Put your address list to good use with direct mail announcements. Be sure to give recipients a few good reasons to check out your booth!
Design the perfect booth
In order to leverage trade show presence within your product launch strategy, you'll need a functional, eye-catching, and thoughtfully designed booth. Here are some elements to include:
Cohesive Theme:
It should be very obvious to attendees that a hot new product or service is being showcased at your booth! A great example is this booth we created for Mobileye, which used a massive rotating UV-lighted car to convey their innovations in autonomous driving technology.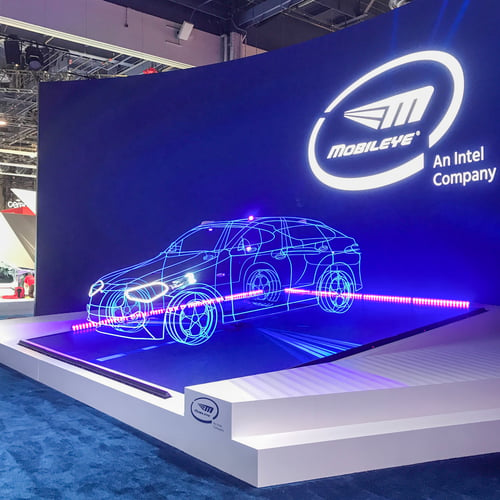 Demonstration / Experience Space:
Whether you have an easily sampled product (such as foods, beverages, everyday products, etc.) or a more intangible service to launch, you need an area to show visitors what it is, how it works, and why it's so great!


Check out how this trade show booth design by Exhibit Options for Hubert's Lemonade gave attendees a chance to relax by the "pool" with a refreshing beverage.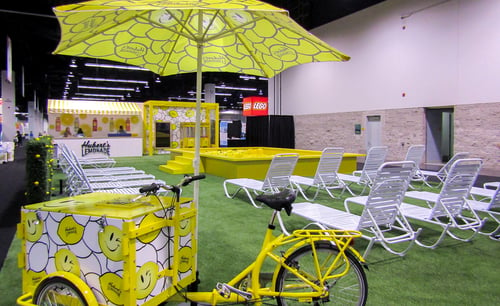 Meetings Areas:
If your product or service pertains to sensitive or confidential client information, private meeting areas are especially essential. When designing a booth with meeting areas, having a thoughtful layout is imperative. It can be tricky to balance displays/experiential features with secure meeting spaces in your trade show booth design, but with a little creativity and our amazing design team, the possibilities are endless!
Take a look at our setup for Intraway for some inspiration: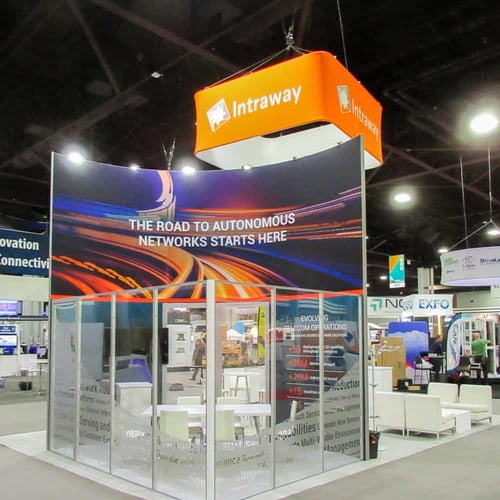 Product Display Design:
Your new product is the star of the show, and it deserves the spotlight! When it comes to product display design, there's a great number of factors that contribute to an amazing looking and highly-effective product display. Which ones you should choose really depends on what you're highlighting. Consider the role lighting, graphics, and colors will play on how your products appear on the show floor.
For Honest Tea, we went with a down lighting approach that showcased the beautiful designs and colors of their products: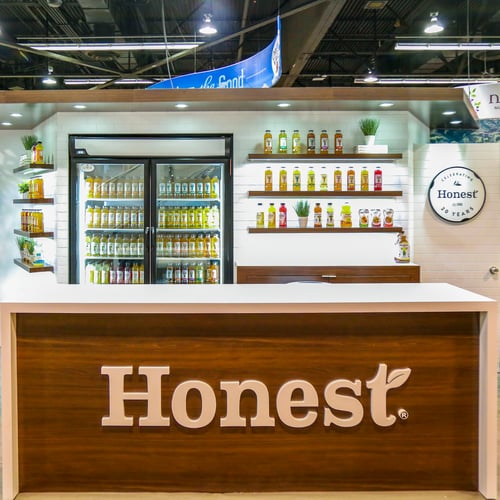 Another powerful trade show product display technique is one we like to call "IRL" – in real life. It's great to see AAL Lighting's products exactly how they'd be used in the real world: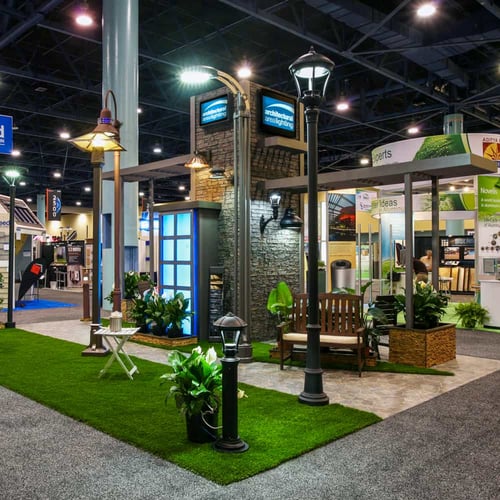 Post-show efforts
After the excitement of the trade show wraps up, the important and valuable followup work begins. Reach out to your new leads quickly and continue to promote your new product or service on all channels to maintain momentum. Sustain the buzz from your trade show by enthusiastically reinforcing the connections you've made and the new product awareness you've generated.
Could you use some guidance in adding trade show participation to your product launch strategy? Talk to the gurus at Exhibit Options. We'd love to lend a hand. Happy exhibiting!