Your trade show booth's ability to make an impact heavily relies on its visuals. When people look at your booth, they might notice bright colors, strategic props or tactile elements, or perhaps branded posters or pictures that you hang in the background.
Each of these elements can fall short, however, if they are not properly lit. In order to make your trade show display items pop and make the most impact, consider how strategic trade show lighting can help.
This article will shine a light on the importance of trade show lighting in your trade show displays, and how different applications can help achieve greater impact at your next trade show.


Best Practices for Lighting Your trade show Booth Design
There are a few best practices to consider when it comes to trade show booth lighting. These have to do with ambiance and mood, attracting attention, and highlighting your products. After all, there are many ways to use light to achieve your goals.
1. Ambiance and Mood
Consider the color wheel and how different hues can affect different emotional responses. For instance, bright yellow and oranges might elicit more energetic feelings, while deep blues and greens can evoke feelings of calm and quietude.
When thinking about trade show lighting, talk to your exhibit house about RGB LED lighting options. RGB stands for "red, green, blue" LED lights, which can be configured to represent thousands of different colors to match your desired mood or brand colors.
One example is IMAX, which used RGB LED lighting to bring a stunning and innovative look and feel to their display experience.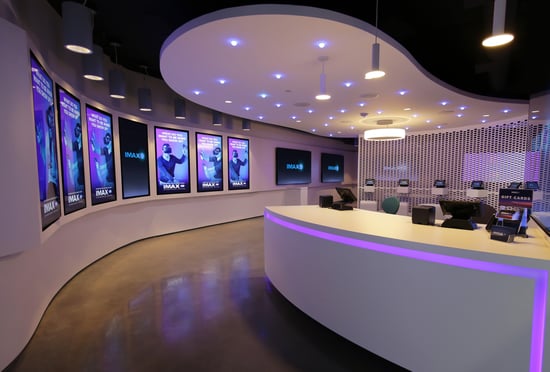 IMAX - Environment
2. Attention
There are many different brands, products, and displays competing for attention at a trade show — how will you make your booth stand out?
Use illuminated graphics or lighted signage, which might glow or flash, to catch the eye and draw the attention of attendees.
One example of a display booth that did this well is Amagi, who achieved a clean, eye-catching display within a 30x30 space focused on minimalist design and bright white and blue colors. This drew the eye from the signage down to the modern lounge space, generating lots of attention.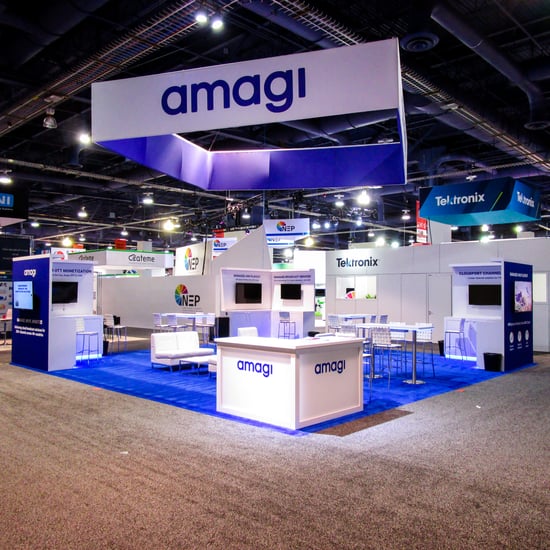 Amagi - 30x30 - Island
3. Accenting Products
Another effective way of using lighting in your trade show booth is to accent your products. Many companies decide to attend a trade show to reveal a new or innovative product, and using strategic lighting can help emphasize that element of your brand or services.
The best type of trade show lighting for accenting products is often a spotlight. This helps attendees think of your product as the star of the show! Overhead quartz lighting is a great choice when your booth needs lighting on specific areas.
Another idea is to add under-shelf lighting to bring an eye-catching glow to smaller products that can sit on a shelf. In fact, Honest Tea did just that for a recent booth design showcasing their colorful bottled beverages.
4. Take Recommendations from Your Exhibit House
If it feels overwhelming to think about how to enhance your trade show displays with lighting, be sure to lean on your exhibit house for ideas. Often, they can help communicate with the convention leaders about what's available in terms of trade show lights and lighting upgrades. For instance, you may have the ability to light your display from the convention venue's ceiling, with the option to add spotlights for a fee. This can help save money rather than setting up a more expensive custom option.
Overall, working with your exhibit house can reveal different trade show booth ideas, both existing and your custom trade show booth, that can create more visual impact and excitement for your products. Work with the pros to make sure you're getting all the cost-saving tips, equipment recommendations and electrical requirements for your particular setup.
With over a decade of experience, Exhibit Options is prepared to help put your exhibit or display booth front and center for convention-goers with the most impactful lighting within your budget.
Reach out to learn more about how you can partner with Exhibit Options for your upcoming trade show.