While your trade show booth design will pique the interest of many potential customers, you'll likely need a designated area for seated discussions or presentations. Here's how to determine which of these trade show meeting space options is the best fit for you.
1. Open Meeting Space
An open meeting space provides a casual spot for show attendees to sit and have a conversation with your staff while reviewing promotional materials. While this style works well in booths of all sizes, it is often utilized in smaller booths that lack the square footage for semi-private or private space.
Recommendations & Best Practices:
High-top tables and stools are a great way to incorporate seating without a large footprint

Entertain existing clients in a comfortable lounge area through the use of a sofa and side tables

Utilize a corner of your booth, or otherwise out-of-the-way area, so that it doesn't interfere with the flow of traffic

Try to keep the space away from loud multimedia or areas in your booth where others will be talking
Limitations to Consider:
Lacks privacy for sensitive conversations, or for situations that require soundproofing
Difficult to accommodate group meetings with more than four people
Lacks flexibility for multimedia presentations that require computers, projectors, or other displays
2. Semi-Private meeting Space
A semi-private meeting space also provides a casual environment to speak with leads and clients, but with fewer distractions than an open-meeting area. In terms of design, this designated space is created through the use of strategically placed partitions and dividers.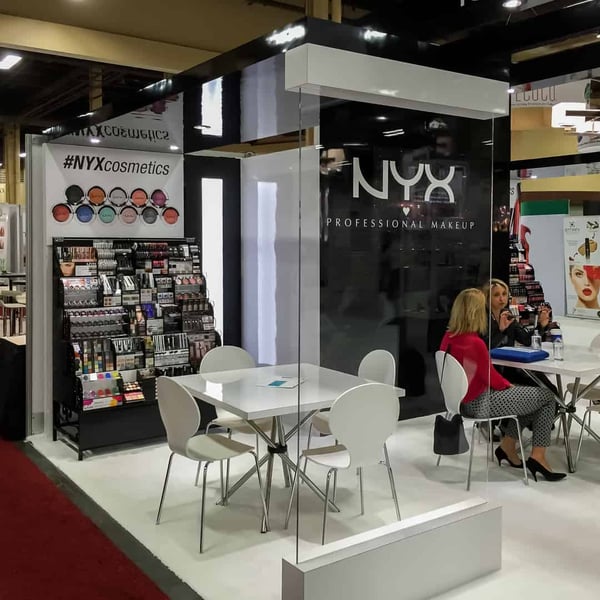 Recommendations & Best Practices:
Best for trade show booth designs that are 20x20 or larger
Utilize clear walls and windows to maintain an open layout throughout your booth
Strategically placed dividers create a more focused environment for discussions, while also offering additional space for branded messaging
Limitations to Consider:
Similar to an open-meeting space, this option lacks complete privacy
Requires a more strategic booth design, otherwise it could feel cramped and unwelcoming
May feel too casual for in-depth sales presentations and formal business discussions
3. Private Space
Private, closed-off meeting room is ideal for formal business discussions, intensive sales presentations, loud multimedia demonstrations, and for exclusive VIP lounges. This level of privacy allows you to provide personalized attention to your guests in a quiet setting at the show.
Recommendations & Best Practices:
Ideal for a two-story booth or large island booth that is at least 20x30 in size
Stay welcoming and approachable with an open or semi-private area – in addition to the private meeting room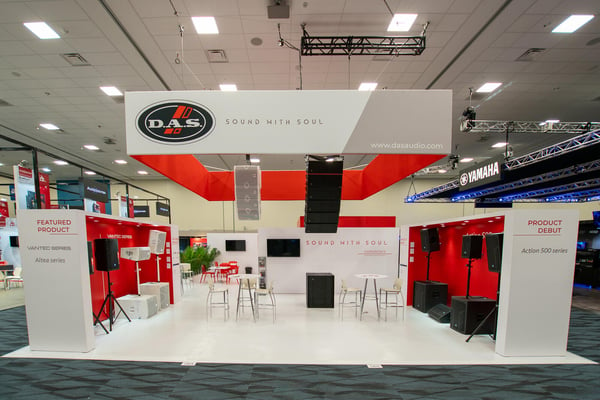 30x40 split island with an enclosed soundproof room and two product kiosks
Limitations to Consider:
Next Steps
Meeting spaces can be simple or complex when creatively incorporated in the design of your trade show booth. It's important that the type of space supports your trade show goals, your product or service, your budget, and your timeline.
Talk to an exhibit house for trade show booth ideas. We will work with you to create the most successful layout for both your exhibit booth and your business goals.