Want to outshine the trade show competition? Let there be light! Not only is trade show display lighting important for visibility, it is a key element in attracting visitors and sharing your story with them.
Here's your complete guide to trade show lighting:


Why is lighting so important?
Trade show attendees are drawn to a well-lit booth like moths to a flame. The glow of great booth lighting makes your exhibit stand out in a dreary exhibit hall ambiance and gives the impression of activity and liveliness in an otherwise dull setting.
Once visitors stop to admire your brilliant booth, accent lighting is an effective way to focus attention on specific highlights within your exhibit. Accent lighting helps you show the visitor the most important elements of your booth, such as a product on display or a valuable marketing message.
A third function of lighting is to contribute to branding. A glance at your display lighting can help trade show attendees understand a bit about who you are. For example, colorful or moving lights might indicate a fun and bold brand personality, where as warm and inviting "homey" lighting gives the impression of a down-to-earth, friendly brand personality.
Anything you can do to tell your story without words strengthens the effectiveness of your trade show exhibit design.


What types of lighting are available?
Here's an overview of most common types of lighting used in trade show booth design, and when to use them:


1. LED Lights:
LED bulbs last over 10x longer than halogen bulbs while using 85% less energy. While LED fixtures can be pricier, the investment will pay off. LED bulbs:
Reduce replacement costs

Cut back on the power supply needs of your booth

Keep your booth staff sweat-free (halogen bulbs get HOT!)

Prevent the degradation of booth graphics due to heat

Are available in a variety of tones
2. Spotlights:
This type of booth lighting is excellent for highlighting a portion of your display that you'd really like visitors to see. A spotlight on your company name, logo, product or marketing message helps attendees learn who you are and what you do without too much effort on their part. Spotlights are typically mounted on adjustable arms that can be clamped into places where they're needed.
3. Floodlights:
Whereas a spotlight highlights a specific piece of your trade show booth design, a floodlight serves to illuminate a large area of your exhibit. Use floodlights on the exterior of your booth to create an attention-grabbing glow, or inside your exhibit to light up large panels containing graphics or information.
4. Hanging lights:
Larger exhibits and exhibits featuring overhead signage may benefit from hanging lights. Hanging lights provide illumination without needing to be mounted on the walls or floor of your booth, which saves on space, reduces visual clutter, and provides light to open spaces within your display.
5. Front-lit signage:
Also known as "channel letter signs," front-lit signage is what is used outside many storefronts to ensure visibility during the day and night. Front-lit signage comes in handy in trade show exhibit design for the same reason: it helps your brand name stand out whether the hall is dimly lit or very bright.
6. Back-lit lighting:
Also known as "glowing displays," back-lit booth lighting involves internal lighting systems that illuminate signage or panels from within. Entire booth walls can be back-lit, lending impact to graphics and a professional, high-quality appearance to your exhibit. On a smaller (but still impactful) scale, counters and logos can be backlit to draw attention.


What lighting should you use for your booth?
Your trade show lighting needs depend upon your exhibit type.
1. Custom and Modular Booths:
Custom booths deserve custom display lighting. Create an immersive experience by implementing all the bells and whistles. Here's one we created for IMAX using custom lighting to craft a visually stunning display: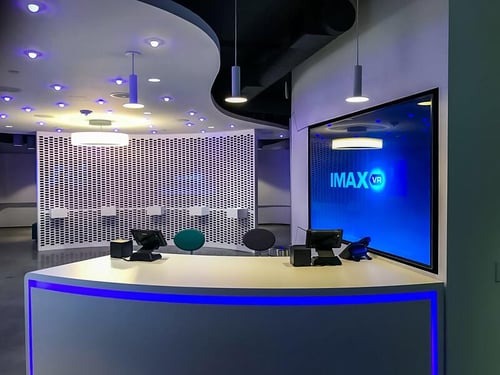 2. Banner Stands, Popups and Portables:
Smart lighting will help you make the most of your small space! Back-lit displays and spotlights create visual interest within more basic booths: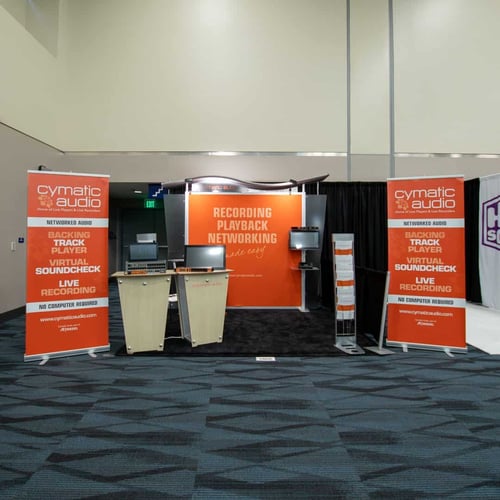 Unique elements like hanging lights can add warmth and personality to an inline exhibit, such as this one from Skinny Dipped:
Special considerations

Lighting offers limitless possibilities for your trade show booth design. How can you make sure you've got the right lighting in the right place at the right time? Here are some pointers:


1. Use the right bulb for the job:
Cold tones work well to illuminate THINGS, and warm tones work well to illuminate PEOPLE. Make sure products and information are brightly lit, while your booth staff and visitors enjoy more flattering hues.
2. Consider your audience:
Your target market may have different visual needs and preferences. Seniors might benefit from brighter lighting, while a younger audience may be comfortable in a dimmer ambiance.
3. Electricity requirements:
For larger booths, you may need to determine the wattage and amperage of your trade show lighting well in advance of the event. This will help you take advantage of special rates for exhibitors who specify their electricity orders early.
Once you've decided what types of lights to use to illuminate your booth, make sure to follow lighting best practices as you implement them in your design.
We hope you found some useful information in this guide to help light the way! For more guidance, reach out to the design gurus at Exhibit Options. We love this stuff!