As the world slowly resumes activities following the large-scale upheaval caused by COVID-19, we can't help but wonder...what will the new "normal" look like?
The future of trade shows depends upon innovative strategies that aim to keep attendees and exhibitors safe while resuming invaluable marketing operations.
What do those strategies look like? Here is a thorough summary of early insights, best practices, and proposed guidelines:
Early Openers in Asia
In some parts of the world, trade shows have already resumed with strict health protocols. In late April, the 2020 Hunan Auto Show took place at an exhibition center in Hunan, China. Trade show officials took several innovative precautions:
Strict health screenings: Attendees were required to undergo a stringent health screening and identity verification process prior to arrival.

Digital registration: To minimize contact with show staff, attendees completed the registration process online.

Temperature checks: On arrival, staff in full protective gear screened attendees for fevers and distributed masks and gloves.

Masks required: Trade show participants were required to wear masks at all times.

Fresh air: Modifications were made to the exhibit hall's air circulation system, pumping fresh outdoor air into the hall throughout the show.

On-site medical attention: Temporary medical centers were placed both inside and outside the exhibit hall.
In early May, the MBC Architecture Show convened in South Korea with the number of attendees numbering more than 45,000. Organizers implemented many of the same precautions as the Hunan Auto Show, with a few additions:
Keep it clean: The show floor was emptied for disinfection twice a day, with fresh air pumped into the building.

Protection is key: Masks, gloves, and hand sanitizer were necessary for admission. Exhibit staffers were required to wear full-face shields.

Wide open spaces: Booths were spaced over 10 feet apart, with wide aisles and directional arrows to dictate the flow of foot traffic.

Embrace technology: Video conference facilities were created for exhibitors to meet with attendees and host in-depth conversations from a safe distance.

Partitions in place: Acrylic barriers were constructed on tables in the cafeteria and in the business meeting area.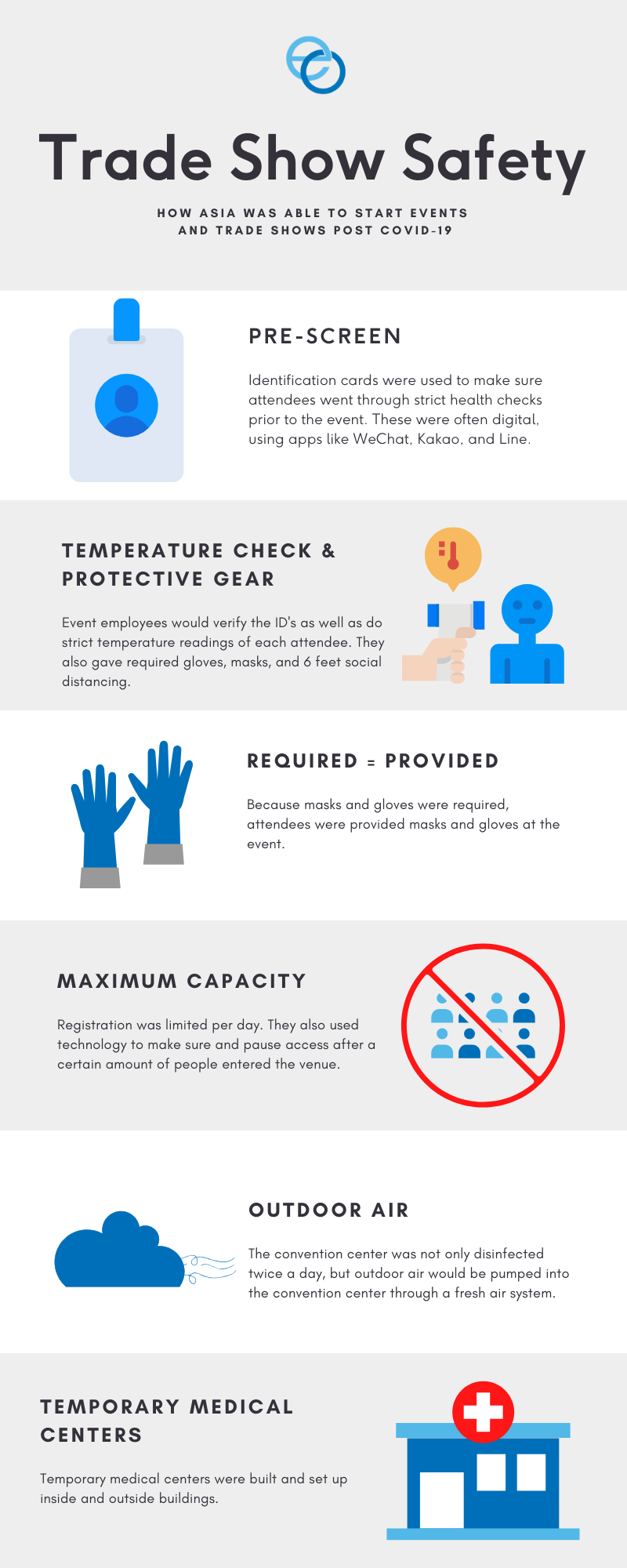 Trade Shows Resuming in the U.S.
We'll soon have a firsthand look at the future of trade shows in the United States. Shows like Connect Safe Space 2020 are resuming, with strategies in place to protect showgoers and participants. Along with temperature checks and online registration, Connect 2020 is planning some major trade show safety moves:
Cotton masks and KN95 masks distributed upon entry.

Supplies like badges, maps, and sanitizer will be shipped individually in advance of the show.

The show has ordered enough gloves for each attendee to use three pairs per day.

Disinfectant foggers placed throughout the exhibit hall.

Utilization of outdoor areas to space out exhibits and encourage social distancing.

No-contact food and beverage provisions (such as pre-packaged meals and ready-to-serve drinks).

Keynote celebrity speaker budget was reallocated toward additional trade show safety precautions
Best Practices and Guidelines for Personnel and Planning Procedures
As new research emerges regarding COVID-19, health organizations and industry experts are beginning to distribute official guides for safe event operations.
AIPC (the International Association of Convention Centres), ICCA (the International Congress and Convention Association), and UFI (the Global Association of the Exhibition Industry), combined forces to create "Good Practice Guidance: Reopening Business Events."
Along with many of the physical measures mentioned above, the document contains suggestions for organizers regarding personnel, procedures, responsibilities, and communication. Here are some highlights:
Develop an official procedure to manage on-site questions and concerns from attendees (such as a hotline).

Create a title and designate one person to drive health and safety framework implementation, such as "Chief Health Officer" or "Chief Risk Officer." This will help with clarity of responsibilities and demonstrate your focus on protecting attendees and exhibitors.

Establish a chain of command with clear safety-related roles for personnel throughout your event planning team.

Consult with your legal, compliance, IT, and HR team members. This helps to ensure that your trade show safety plans go smoothly and that they align with local and national rules, laws, and regulations.

Determine who has the final say in your trade show rules and regulations. Involve such individuals and organizations early in the planning process.

Partner with companies and vendors that comply with best-practices and meet the standard of safety and security to which you aspire.
Operational Shifts: New Best Practices for Warehousing, Setup, and Teardown
As any trade show organizer knows, what goes on behind the scenes can make or break an event. Before, during, and after the show, processes can be realigned to ensure that your operations crew stays healthy and ready to work.
The Exhibition Services & Contractors Association has compiled an exhaustive list of safety suggestions for operations procedures:
Incoming event hall decorations, flooring, and furnishing materials should be sanitized according to CDC guidelines using disinfectants, foggers, electrostatic devices, UV lighting, etc.

Minimize crew sizes and keep each group separated by location and shift. Be sure your crew has access to ample PPE.

Provide space between workstations and use partitions within break areas.

Reduce touchpoints in areas such as warehouses (for example, leave doors open to eliminate handle usage).

Forklifts, trucks, aerial baskets, and other equipment should be limited to one occupant whenever possible.

Sanitize equipment between shifts.

Utilize clear, prominently-placed signage to communicate health and safety measures to crews and contractors in your warehouse and exhibit space.
As trade shows in the U.S. continue to open with painstaking planning, diligent execution, and an abundance of caution, it is clearer than ever that we are all in this together. Show organizers, exhibitors, and attendees must work together to keep each other safe so that the events we love can continue to serve our respective industries.
Exhibit Options is ready to provide custom, high-quality exhibits and safety solutions. Let us help you create a booth with cutting-edge health standards that is sure to draw in the visitors (one at a time, of course).
Hang in there, and we'll see you on the show floor soon!